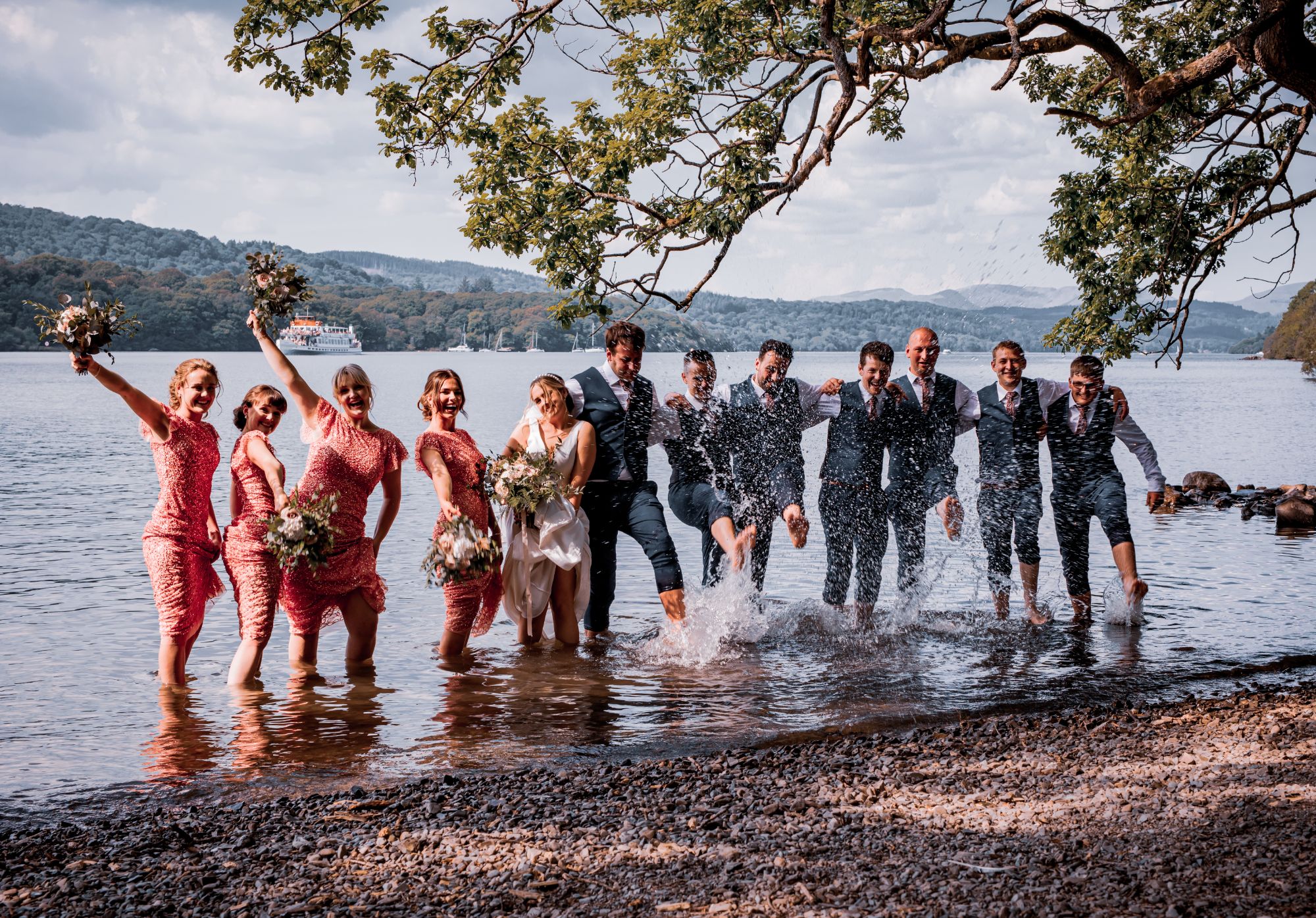 I don't intend on boring you, but here is the nitty-gritty - T's and C's which you need to be aware of ahead of enquiring...
T's & C's
1.1 Clare Gelderd photographs / films with her own signature style in a laid back and informal manner.
1.2 If a client requires any additional processing on individual images (for example, in Photoshop) then an additional fee maybe levied - £10. This shall be agreed between the parties before the work is undertaken and paid ahead of the adjustments being processed.
1.3 Each client accepts responsibility for any delivery methods used when Clare Gelderd forwards visuals/products. Clare provides all high resolution digital files from your day which she is happy with. The client is responsible for ensuring that the digital files are backed up and stored safely. Clare is under no obligation to store or maintain copies of the files, once the client has received them.

1.4 Clare retains the right to cancel the booking at any time due. This is rare but situations could occur due to an ill feeling or correspondence which may be deemed inappropriate or highlight that both parties are not suitable to work together. It is important for all parties involved we can communicate and work well together. If Clare decides to cancel the booking a full refund of all monies paid will be given minus the costs for any work already undertaken.

1.5 If Clare needs to cancel the booking due to illness or injury, liability shall be limited to the amount of monies paid in clause 4.0 minus the fees for work already undertaken.

2.0 When hiring Clare Gelderd, the client grants creative and artistic license in relation to the photographs and footage without limitation: Clares selection; editing; and post processing. Clares judgment on photographic style shall be deemed correct. Due to the weather and the availability of subjects, no one image is guaranteed. Clare asks potential clients to view examples of previous work, and to understand her signature style and editing techniques in line with her brand. SEE 3.0 for more details.
2.1 RAW or unedited images are not supplied by Clare Gelderd Photography. EVER!
2.2 Clare is to be the sole professional photographer on the day.
2.3 Clare retains the right to change her editing style whenever she pleases. Clare will not change her editing style upon request.
2.4 The client acknowledges that some of the colours in Clares finished signature style images will not be true to life. The client must view galleries of Clares work to ensure they are fully aware of Clares signature style.
3.0 Clare will not be held responsible for being unable to capture key moments in keeping with her signature style.
WEATHER CHANGES : WEATHER PERMITTING, THE WEDDING PHOTOGRAPHS WILL BE TAKEN AS AGREED. IN THE EVENT OF ADVERSE WEATHER CONDITIONS, Clare Gelderd WILL MAKE NECESSARY CHANGES. Clare Gelderd WILL ENDEAVOR TO PRODUCE HIGH QUALITY COVERAGE OF YOUR WEDDING WITHIN THE TIME ALLOCATED TO HER.
REQUESTED PHOTOGRAPHS : Clare Gelderd WILL HONOUR ALL PHOTOGRAPHS REQUESTED WHICH WILL BE AGREED IN ADVANCE, PROVIDING THE FOLLOWING FACTORS ARE MET – WEATHER AND ALLOCATED TIME PERMITTING. AVAILABILITY AND CO-OPERATION OF THE PERSON/S CONCERNED.
COVERAGE : Clare Gelderd CAN NOT BE HELD RESPONSIBLE FOR THE LACK OF COVERAGE CAUSED BY THE CLIENT, BRIDE, GROOM OR THE WEDDING PARTY NOT BEING ON TIME, OR BY THE CHURCH, REGISTRY OFFICE, OR LICENSED VENUE RESTRICTING PHOTOGRAPHY.
PERSONAL ACCIDENT : ANY DIRECTIONS ISSUED TO CLIENTS, THEIR GUEST OR EMPLOYEES DURING ANY PHOTOGRAPHIC SHOOT ARE DEEMED TO BE AT SAID PERSONS OWN RISK. Clare Gelderd Photography CANNOT BE HELD RESPONSIBLE FOR ANY PERSONAL ACCIDENTS DURING AN APPOINTMENT.
3.1 Clare works the hours specified at the time of booking. Any adjustments of these, prior to the clients day, must be confirmed in writing with Clare Gelderd.
3.2 Clare aims to deliver all wedding images within 8 weeks of the clients wedding date, but this can vary depending on workload. Clare will always keep you informed if there will be a slight delay.
3.3 Clare aims to deliver all shorter shoots (1-2 hour sessions) within 4 weeks of the clients scheduled session. Once again, this can vary depending on workload.
4.0
SECURING BOOKINGS AND PAYMENTS

4.1 - WEDDINGS
A DEPOSIT OF £100 IS REQUIRED WHEN THE CLIENTS SIGN THE WEDDNG CONTRACT. DATES ARE RESERVED ONLY WHEN THIS DEPOSIT IS PAID BY BANK TRANSFER, and Clare confirms receiving it.
ALL BANK TRANSFERS FOR YOUR WEDDING BOOKING MUST BE REFERENCED WITH YOUR WEDDING DATE.
Each package is priced and detailed accordingly (SEE PRICING)
PAYMENTS : PAYMENT OF THE BALANCE OF PHOTOGRAPHY SERVICES / GOODS IS TO BE MADE NO LATER THAN 30 DAYS PRIOR TO THE WEDDING CEREMONY. AN INVOICE WILL BE DESPATCHED TO YOU ONCE THE BOOKING FEE IS PAID, APPROXIMATELY 8 WEEKS PRIOR TO YOUR EVENT Clare Gelderd WILL SEND YOU A REMINDER (IF NOT ALREADY FULLY PAID). EXTRA PHOTOGRAPHIC MATERIALS CAN BE PURCHASED AFTER THE WEDDING DAY. UPON ORDERING A 50% DEPOSIT IS REQUIRED. ANY BANK CHARGES INCURRED DUE TO RETURNED CHEQUES WILL BE CHARGED TO THE CLIENT. INFORM Clare Gelderd Photography OF ANY BANK TRANSFERS AND PLEASE ENSURE YOU HAVE REFERENCED ACCORDINGLY.
WITH YOUR WEDDING DATE.
CANCELLATIONS : A FULL UNCONDITIONAL REFUND POLICY EXISTS FOR A PERIOD OF 14 DAYS FROM RECEIPT OF THE CONTRACT AND BOOKING FEE. AFTER THAT DATE, BOOKING FEE REFUNDS ARE AT THE DISCRETION OF Clare Gelderd Photography. A CANCELLATION PAYMENT HAS TO BE MADE BY THE BRIDE / GROOM AND IS AS FOLLOWS.
CANCELLATIONS CHARGES AS FOLLOWS :
90 DAYS OR LESS BEFORE WEDDING DATE – 100% OF TOTAL BOOKED (INCLUDING EXTRAS)
180 DAYS OR LESS BEFORE WEDDING DATE – 50% OF TOTAL BOOKED (INCLUDING EXTRAS)
250 DAYS OF LESS BEFORE WEDDING DATE – 25%OF TOTAL BOOKED (INCLUDING EXTRAS)



4.2 – ALL OTHER SESSIONS

A booking fee is requested, to a value at Clares discretion depending on the scale, and location of the session. This must be paid in advance to secure the booking. The remaining payment is due the day of the session.

If payment is not made in accordance with the above clauses,
Clare reserves the right to charge interest at the rate prescribed by the Late Payment of Commercial Debt (Interest) Act 1998 from the date payment was due until the date payment is made.
5.0 - Expenses
5.1 Where extra expenses or time are incurred by Clare as a result of alterations to the original brief by the client (for example, additional books, prints or video edits are requested), the clients are liable to pay the quoted / estimated fees for the items.
5.2 Any extra expenses are payable by the client within 14 days of the invoice.

6 - Copyright
The entire copyright in the Photographs is retained by Clare Gelderd at all times throughout the world and shall under no circumstances be assigned to the client.
7 Photographic / film usage
7.1 No use may be made of the Photographs provided to the clients ahead of the payment being settled in full.
7.2 Any permission which may be given for prior use will automatically be revoked if full payment is not made by the due date.
7.3 The client shall have a non-exclusive right to use the Photographs provided to them by Clare for your own private purposes which shall include but not exclusively reprinting them, uploading to Facebook and other similar websites, emailing to friends and family and such like (the 'Licence').
7.4 'The Licence' only applies to the client and its benefit shall not be assigned to any third party (blogs, magazines, newspapers) without Clares prior written consent.
7.6 Clare retains the right in all cases to use the Photographs in any manner at any time and in any part of the world for the purposes of advertising or otherwise promoting her work. Clare still politely asks clients permission ahead of this.
7.7 Manipulation of any image in the Photographs or use of only a portion of the image in the Photographs may only take place with Clares permission. This is to avoid any misrepresentation of Clares signature style and brand.
7.8 When published online, all Clares work must be credited - thank you
8 Confidentiality
Clare shall keep confidential and will not disclose to any third parties or make use of material or information communicated to her in confidence for the purposes of the Photography Services, save as may be reasonably necessary to enable Jo to carry out her obligations in relation to the Photography Services, the Photographs.
8.1 It is the clients responsibility to notify Clare of any members of your wedding who cannot have their images posted online due to privacy matters. These can include adoption, armed forces or domestic abuse victims. It is the cleints responsibility to inform Clare of these people with photographs prior to the day, in written form.
9 Law
This agreement shall be governed by the laws of the United Kingdom.
INSURANCE
I'm insured through HISCOX - policy number 14837394
Public Liability to £2,000,000 & Professional Indemnity to £100,000